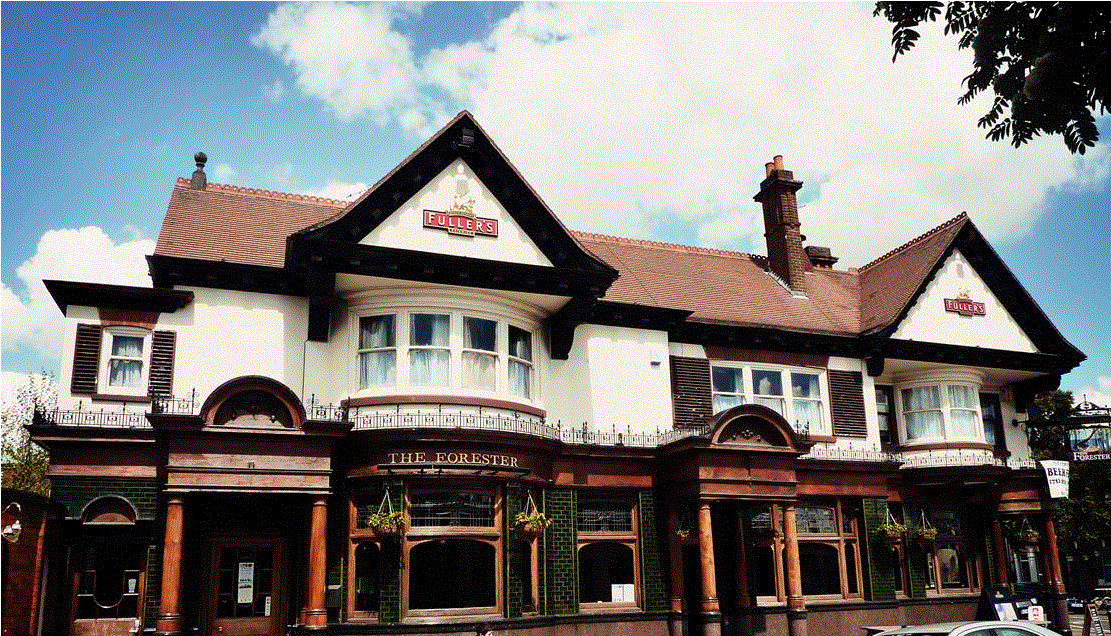 Welcome to The Forester Ealing,
The Forester Ealing is on Leighton Road in Northfields and is a grade 2 listed Public House, Built in 1909 by the famous Fullers architect Nowel Parr has recently undergone a fabulous refurbishment - reaffirming its position as one of the finest pubs in Ealing.
The Grade II listed building boasts charming original features across its three bars - dovetailing perfectly with contempoary touches.
Still firing after all these years, two of the original fireplaces from the original build are still intact; they've been providing a warm welcome to our guests for more than 100 years.
So why not come and join us for a drink!
With all the emphasis on the quality of our service and splendid architecture The Forester Ealing is the perfect venue for you relax and enjoy each other's company. Dining here is easy, with our expert thai chefs using traditional techniques with passion to provide simple and delicious authentic thai cuisine.
Our pub is also proud to provide comfortable and stylish accommodation to anyone wishing to stay a little longer, in one of several rooms upstairs; available for booking now.
So now you know what it is we have to offer, it's time to book a table and join us! We very much look forward to meeting you all.
See you all soon.
Wishing you all the best,
Your team at The Forester Ealing.
Contact
0208 567 1654 Pub
0208 579 1519 Thai Restaurant
Location:
2Leighton Road, Northfields W13 2EP
Bar Hours:
Sunday 11AM - 11PM
Monday to Wednesday 11AM - 11.30PM
Thursday 11AM - 12AM
Friday and Saturday 11AM - 1AM
Restaurant Hours:
Sunday Carvery 12PM - 6PM
Thai Restaurant
Sunday Closed
Monday to Thursday 12PM - 3PM 5PM - 10PM
Friday and Saturday 12PM - 10PM
FRIDAY, 27TH MARCH @ 8.30PM
LUKE CORBETT
ALL YOUR FAVOURITE TUNES NEW & OLD
The Six Nations Championship is, without doubt,
the world's greates rugby tournament.
Each year the collective fans of six proud nations
England, France, Ireland, Italy, Scotland and Wales
share in the passion and excitement of this feast of rugby.
Don't miss any of the action here at The Forester!!
You won't be disappointed......
Quality Beer, Service and Atmosphere
2 projector screens
5 Plasma T.V'S
Don't miss any of the action here starting on
2nd Febuary - 14th March
The Forester is showing the most prestigious and unmissable Jump racing event of the year.
The Cheltenham Festival is a bucket list event that captures the nation and produces extraordinary moments to last a lifetime.
Live coverage of the Chetlenham festival on our big screens 10th - 13th March
Treat the lady who brought you into this world with a fabulous Sunday Carvery on Sunday, March the 22nd.
We will be serving from 12pm with a choice of five different roasted types of meats, a selection of freshly cooked vegetables plus all the trimmings.
Book today to avoid disappointment